Travel Agent Success Planner
After Placing Your Order You'll Get Instant Access to a fun How-To Video Series!
Before your planner even arrives on your doorstep, you'll get access to a short online video series that walks you through creating your 90-Day Vision and your S.M.A.R.T. Goals… the whole 6-step strategy.
Order your 90-Day Travel Agent Success Planner today and it will arrive on your doorstep 7-10 days. The planner is undated so you can start using it as soon as it arrives.
You've Got Two Options
Option #1
SAVE 40%
Option #2
Save 40% + Get Free Shipping
Why You'll Love This Planner
These are not your typical planners. These planners are exclusively for travel agents, AND you're going to feel better every day you use it because it will keep you organized, on-track, and focused all of the "right actions", the actions that lead to creating a travel business AND a life you love.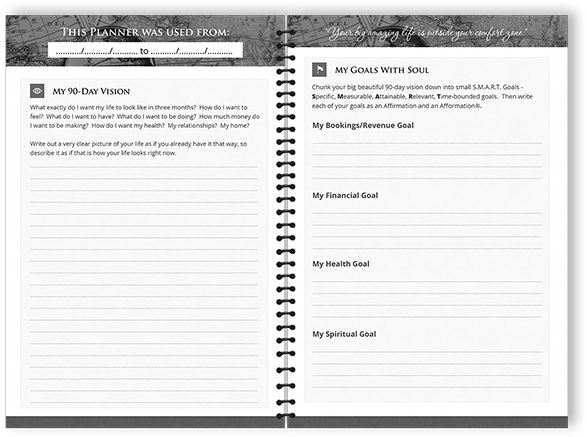 YOUR 90-DAY VISION
A place to write out exactly what you want your life to look like in three months. How do you want to feel? What do you want to have? What do you want to be doing? How much money do you want to be making? How do you want your health, relationships, home, etc.?
YOUR GOALS WITH SOUL
A place to chunk your big beautiful 90-day vision down into small S.M.A.R.T. Goals.
YOUR BRAIN DUMP
A place to get all of your to-do's out of your head and onto paper so you can properly plan your week.
YOUR TO-DO LIST
A place for the list of things you're actually committed to getting done each week. In the video series that comes with your planner we'll show you how to whittle down your to-do list so that it's totally manageable, and still get everything done that needs to get done.
YOUR TOP PRIORITIES
A place for your top priorities for the week – the things that are going to really move you towards your dream life.
YOUR DAILY ACTION PLAN
A place for each days fun and productive action plan.
YOUR NOTES
A place to jot down your daily shots of brilliance, important things you need to remember, notes from phone calls, and other random tidbits each day.
YOUR DAILY GRATITUDE
A place and a prompt for daily gratitude because gratitude creates magic.
YOUR WEEKLY REFLECTION
A place and a prompt for an end of week reflection. What will you do differently next week?
Why This Planner Works
One thing that consistent, powerful resolution-keepers have in common is something surprisingly simple: they write things down. Writing their goals becomes like a subconscious contract that they are honoring with themselves — and it keeps the goal fresh in their minds as they look at it every day.
A study conducted by the Harvard MBA Program followed one graduate class for 10 years. In the class, only 3% of the students had clear goals and a plan to achieve them. About 13% had goals but had not written them down. And a full 84% had no goals at all.
Ten years later, the results were astonishing and über-clear:
The 13 percent of the class who had goals, but did not write them down, earned twice the amount of the 84 percent who had no goals. The 3 percent who had written goals were earning, on average, 10 times as much as the other 97 percent of the class combined.
Literally and metaphorically, it pays to write things down, to create a plan, and to make that contract with yourself — over and over, even after those times when you fail, even when things don't work out the way you thought they would, even when you feel vulnerable and scared of getting hurt.
I would ask you honestly this year: What, really, are you getting out of cynicism? We know it's not better outcomes. It's not better health or happiness. It's not better relationships.
If cynicism is not serving you, why not give it up? Before you tackle letting go of sugar or smoking or whatever — why not let the very first thing you give up be the cynical (and limiting) underlying belief that there's no point in trying?
If you fell off the wagon with your resolutions, there's absolutely nothing stopping you from hopping back on again right now. Every single day is the beginning of a new 365-day cycle. We mark it on January 1st — but in truth, any day can be the fresh beginning of a New Year. Let 2018 be your Year of Intentional Optimism.
Write it down. Speak it out loud. Choose courage over safety. Dive in. Just see what happens.
You've Got Two Options
Option #1
SAVE 40%
Option #2
Save 40% + Get Free Shipping
Your new
Travel Agent Success Planner
will be shipped and on your doorstep within 10 business days. And within about 15 minutes of placing your order you'll get access to the short online video series that walks you through creating your 90-Day Vision and your S.M.A.R.T. Goals… the whole 6-step strategy.