If you're not making the kind of money you want to be making, or at least not on a consistent basis – maybe you feel like it's feast or famine – chances are you have at least one of these three (totally fixable!) travel agency problems.
1. You don't have a well-defined niche and ideal client avatar.
….and as a result, your marketing is not crystal clear about whom you serve and how you help them.
There's a cheesy old adage that says, "The riches are in the niches." And it's absolutely true. Narrowing your focus may seem counterintuitive, but it's the secret to working fewer hours and making a lot more money. I talk more in depth about this in my book (which is available on Amazon here).
Once you define your niche and ideal client avatar, then you need to create a crystal clear core-marketing message that resonates with your IDEAL clients. All of your marketing needs to be built around your core marketing message.
2. Your marketing funnel doesn't make sense, or worse yet, doesn't exist.
A marketing funnel is a pathway you lead prospective clients down. The graphic below illustrates a high-level overview of what your marketing funnel needs to look like in order for you to be consistently landing new IDEAL clients.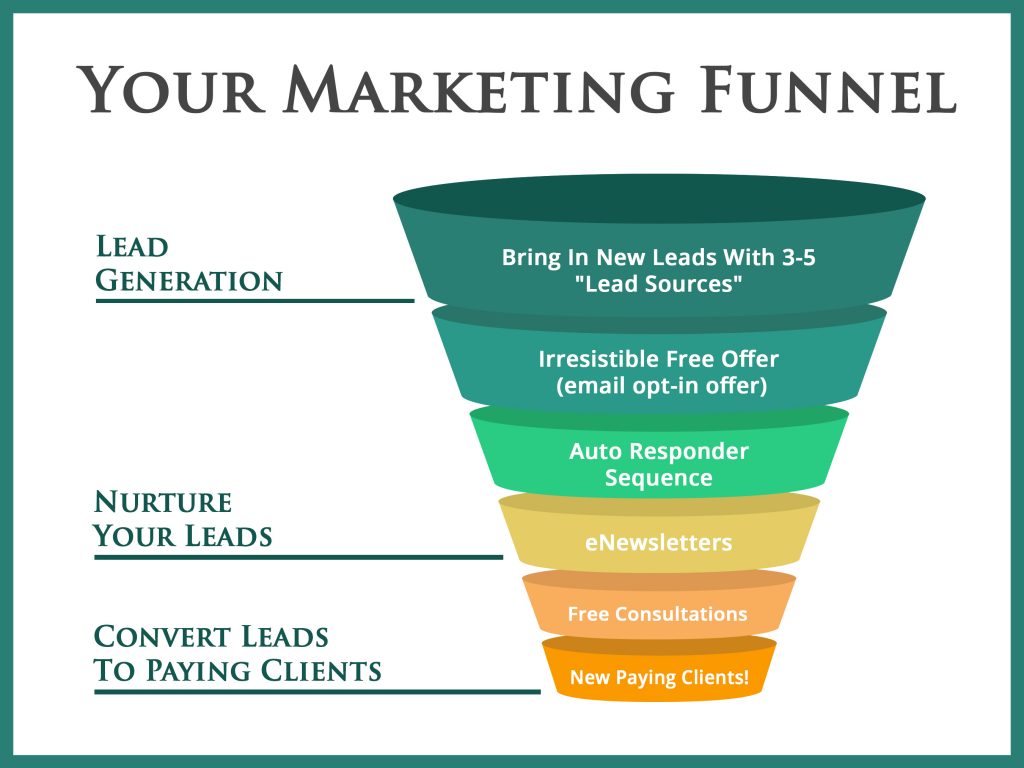 In the Travel Expert Marketing Academy we do a deep dive into this and show you how to get your funnel up,    running and producing results for you. (Psst… if you purchase a copy of my new book, you'll get a $150 Voucher to use to join us in the Academy. My team and I would love to help you develop your marketing funnel in the Academy.) 
3. You lose focus easily.
You can't allow yourself to be constantly interrupted. The most common interruptions I see with travel agents are constantly checking social media and email, not having proper childcare during work hours, and attempting to multitask.
Studies show that it takes your brain 10-20 minutes to fully refocus after a distraction. And studies show that multitasking is a myth. It's actually brain switching and dramatically lowers your productivity. There are times you just have to do it – for example when you're juggling kids and a shopping cart and an urgent phone call. Your work time is sacred and should be treated that way if you want financial stability in your business.
Here are some of my favorite tips for staying focused and productive during my work day: 
First, make sure you are clear about your goals, and make sure they are specific. In order to be productive and stay focused you need to be clear on what your goals are so that you are always taking action towards achieving them.


Chunk your tasks. Set aside specific chunks of time to hyper-focus on one thing. For example, some chunks are dedicated to client research, other chunks are dedicated to marketing tasks, other chunks are dedicated to client follow-up, and so on. 

Check email and social media three times a day (start of workday, middle of workday, end of workday). And set a time limit on it. Set your timer (start with 30 minutes) and make it a game to get all of your email and social media handled before the timer goes off.
Tell me in the comments below which of these travel agency problems you struggle with. I'd love to hear from you.
Love & Success,
Heidi and Your Marketing Team