Here in today's Travel Expert Insider I want to talk to you about how you can leverage something called a marketing mix in your travel business to grow your business.
VIDEO TRANSCRIPT
If you're wondering what exactly a marketing mix for a travel agency is and how you can use it to have a more successful travel business, you're in the right place because I'm going to cover that in this video.
The simple definition of a "marketing mix" is putting the right product or service, in the right place, at the right time, and for the right price. The Marketing Mix is most commonly executed through The 4P's.
P #1 is your Product or Service, in the case of a marketing mix for a travel agency it's the service you provide to your clients. What need does your service fulfill on? How does it differentiate from your competitors? What is the experience your clients will have when they hire you? And so on.
P #2 is Place. Where do prospective clients look for your service? What methods are you using to get in front of your target market?
P #3 is Price. This could mean your planning fee if you charge one, and the price point of the type of trip you book – for example, what is the lowest trip budget you'll work with? Maybe you don't work with clients that spend less than $8k on a trip.
P #4 is Promotion. How are you going to promote yourself to your target market? What does your marketing and sales funnel look like? How often will you send out special promotions?
That's an overview of a marketing mix for a travel agency and how you can use the 4P's to have a more successful travel agency.
Now I want to hear from you. Which of the 4P's do you need to spend more time on in order to have the perfect marketing mix for your travel agency? Please share in the comments below.
If you like this video, hit the like button and share it with your practitioner friends. For more videos like this one, click the "subscribe" button.
It's your time to shine…. so what are you going to do to break through to the next level as a travel agent?
Thank you for watching and I'll see you in the next video.
Love & Success,
Heidi and Your Marketing Team
P.S.  Sending out an effective high-quality e-Newsletter, and growing your email list can seem overwhelming, especially if you're not exactly sure how to do it.
I want to take away all of your overwhelm so I'm hosting a FREE Email Marketing For Travel Agents training (held online via webinar).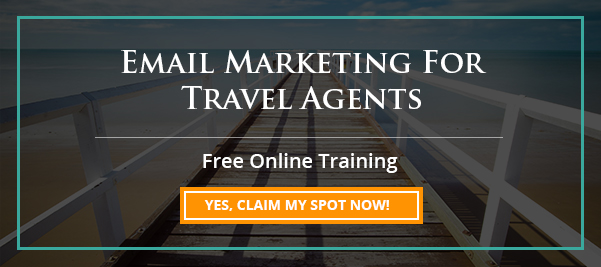 At this LIVE webinar, you'll discover…
==> Why you need an email list, how to create one, and how to fill it with new perspective IDEAL clients (I've built several email lists of over 15K people each, and I'm excited to show you how to do it too).
==> The most efficient way to send out regular e-Newsletters (this strategy will save you TONS of time).
==> How to convert your new email subscribers (ideal prospective clients), into PAYING clients.
And MUCH more!
I'm really excited to share this information with you.  I'll see you there!