Wondering why your phone isn't ringing off the hook with potential clients who want to book travel with you?
Or maybe you're just wishing your phone would ring – period! 😬
If you don't have enough clients, if people aren't reaching out to you, inquiring about booking travel with you, then you have a lead source problem.
What's a lead? A lead is simply a prospective client. So, a lead source is any tool or activity that you use to bring in new prospective clients.
Some examples are: Google ads, Facebook ads, speaking engagements, TikTok, Instagram, email marketing, joint ventures… and there are many, many more!
Ideally, you'll have JUST 3-5 lead sources in place, running with MINIMAL effort and expense on your part, that consistently deliver you IDEAL prospective clients. When done right, you don't need more than 3-5, and trying to do more than 3-5 will pretty much guarantee your efforts are diluted and none of them will succeed for you.
Focus is key – and isn't that a relief?!? It really can and should be simple and effective. 😎
When we say minimal effort, we mean minimal effort to maintain. Most lead sources are going to require effort to set up initially (and some more than others) but once they're up and running you should only spend a very small amount of time on a regular basis to check how they're working and make any necessary adjustments.
Some lead sources are totally free – just requiring your time – and others you'll have to work into your budget (things like google ads, print ads, some in-person events, etc.). The key is to closely track and monitor the ROI (return on investment) of each of your lead sources. Keep in mind that your time spent should be assigned a dollar amount, too, so that you can compare cost and no-cost lead sources.
The equations for calculating an ROI for each lead source are too complicated for this email because it depends on so many factors, for now, just be aware that you must track the ROI your lead sources in order to know how well they are working and if they need to be adjusted, or if a particular lead source doesn't work at all for you and you need to stop using it.
(If you're in the Travel Expert Marketing Academy, we cover all of this in more depth, and if you'd like help figuring yours out, bring your questions to the next Academy Round Table or Coaching Call and we'll help you out!)
If you'd like some help choosing and getting started with YOUR best lead sources, we have a free guide for you with 14 great lead sources!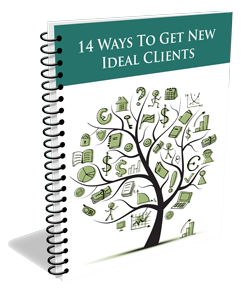 We also have a fun quiz to help you narrow down your top lead sources based on your unique personality and strengths.