In today's Travel Expert Insider video I'm going to share with you the truth about travel agent planning fees.
VIDEO TRANSCRIPT
One of the biggest — and most damaging — myths for travel agents is something I hear all the time:
"I'd charge planning fees (or higher planning fees), but there just isn't a market for it."
Some travel agents point to the economy. Or the fact that tons of agents don't charge planning fees. Or the fact that people just don't value travel agent services as much as they once did.
The truth about planning fees.
If you're a newer agent and have been wondering… how do travel agents get paid? The answer is there are two primary ways travel agents get paid… planning fees and booking commissions. Many of the most successful agents get paid both ways on each client they work with. They collect a planning fee from the client, and they get a booking commission from the suppliers.
Here's the deal about travel agent planning fees, and this is REALLY important for you to understand:
There's always a market for high quality. ALWAYS.
Whatever your travel niche, whatever the economy — if you're a passionate and caring travel agent, offer a great service, have expertise and/or experience that others may not, and are willing to be constantly learning and improving your skills — then you can and should be charging high-quality prices for your work.
Let's bust this no-market myth with some truths. Let me give you a quick example.
I currently live in a small town, after moving from a medium-sized city. Initially, I was delighted to find that I could get my eyebrows waxed for a third of the price that I paid in Minneapolis. But I soon discovered that the quality of the work was nowhere near what I had experienced before. Back in Minneapolis I had the same brow artist for 12 years — and I loved her work. AND, I was happy to pay more for good work. I still am. If a high-quality brow artist moved to my town and charged TRIPLE the average rate, I would absolutely jump at it, no question, and I would immediately tell all my friends to go.
I would do this because it's worth it to me. It's less important to me what the average "going rate" is if that rate produces sub-par results. I recognize skilled artistry in this area, and it matters to me. And I know I'm not alone.
There are always people looking for the BEST of the BEST — and who are willing and happy to pay for it.
There's another thing that you need to know: The key to becoming the kind of entrepreneur that clients confidently invest in is having the courage to invest in yourself.
What does this mean?
It means you're constantly learning, and always improve your skills and improve the quality of your marketing. You stop making excuses. You take risks. It means you invest in high-quality marketing that accurately reflects who you are and what you're bringing to the world. You cultivate and nurture a brand that tells your story honestly and beautifully so that the clients you're seeking cannot wait to get on board with you. It means you listen to your intuition and follow your passion.
As you're looking ahead in the direction you want to go with your travel business, I hope you're willing to take seriously the value of what you offer.
Now I'd love to hear from you. What is the exact type of client you'd love to work with – who is your dream client? Share in the comments below.
Love & Success,
Your Marketing Team
P.S. The best mindset in the world won't help you if you don't also have the practical skills to put it into practice.
Those practical skills are what we're here to give you in our Travel Agent Marketing Masterclass.
This class is totally free and the replay is available on-demand right now so you can watch it whenever is most convenient for you.
Let's make 2022 your best year yet!
---
14

Ways To Get Ideal Clients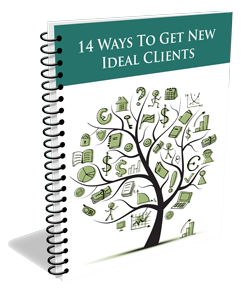 You'll Discover The 14 Best
Client-Getting Strategies For Travel Experts
in This Free Special Report
We will never share your information.
---