This Is Why We're Here
We believe that who you are and the services you provide as a travel expert are truly helping people and improving the world we live in.
You introduce your top-quality clients to new places, new ideas, new people, new traditions.
You're guiding couples, families, and individuals through major celebrations, milestones, and life transitions.
You make people feel special and save them hours and hours of wandering aimlessly through minefields of Internet mumbo jumbo and scams and confusing terms of service agreements.
You are a top-notch planner and organizer, keen trouble shooter, accomplished connector, and seasoned adventurer.
And we are here to help you refine your skills as an entrepreneur and turn your travel know-how into a wildly successful, satisfying business.
To get started, click here.
Our Mission
We are on a mission to put Travel Agents back on the Map! We have a 5-year goal to make Travel Experts a household term, and more popular than hiring a housekeeper. While the Internet has made it technically possible for people to book their own travel, it hasn't made them travel experts. And it has made researching and booking travel a time-consuming chore for many people.
The problem is, those people don't know that you exist. Here at Marketing For Travel Agents, we help you get seen by your IDEAL clients (NOT the bargain shoppers and tire kickers!).
Luxury, experiential, accessible, family, group travel, cruising, and destination weddings are ALL on the rise. There are more than enough ideal clients out there for you to make the income you want. They just need to be able to find you. Once you have the correct marketing pieces in place, you'll have the time and money to take advantage of some of those great FAM trips and the flexibility to design your business and day just like you dreamed of!
My background is in marketing (you can learn more about my personal story below if you like). I'm a travel lover and swear by travel agents — they've made great things possible that I never could have done on my own. After learning more about the travel industry and the extremely limited marketing tools available to travel agents, I decided this is part of what I could offer — because I believe as a travel expert, you're up to way more than just planning trips.
I see the services you provide as something that makes a huge difference for people — personally, relationally, socially. The more we travel, the more we expand our understanding of our world. We grow as people. We connect meaningfully with others. We traverse boundaries and erase boundaries. This is important work you're doing!
So we've developed a passel of great tools, all designed to get your message out there, attract the people who need and want what you offer, and help you create a business and a life that rings with Abundance, Purpose, and Freedom.
There is a sea of ideal clients out there that need you and would LOVE to work with you – they just need to be able to find you! We can help you with that!
We show travel agents like you how to create a highly profitable and rewarding travel agency without overworking yourself.
If you'd like to learn more about our core values, you can see what we stand for by clicking here.
How To Be A Wildly Successful
Travel Agent in Today's Market
"As a travel agent, I'm always looking for tips and tricks to grow my
business! This book is full of them!" – Amy Angeli
If you prefer a PDF or ePub (Nook, iBooks) version purchase the Kindle Edition on Amazon and email your receipt to [email protected] and we'll email you the PDF and ePub versions – no charge!
This Is How We Got Here
If we've met, you probably know me as a Marketing Maven, but like a lot of entrepreneurs, I wasn't always doing what I do today. My work and purpose have evolved.
My first adventure into the world of entrepreneurship was as a professional organizer and productivity coach, which I started building on the side while working a full-time job.
When I finally decided to quit my day job and go "all out" on my new business, I discovered the total necessity of understanding and using great marketing.
I committed myself to learning as much as I could as quickly as I could. I spent thousands of dollars and hundreds of hours on courses and workshops. I was running my business by day and toiling away at new marketing strategies by night.
There were many late nights! It certainly wasn't the party it is today but – I was so excited about the possibilities that I knew it would all be worth it.
Several years, and tens of thousands of dollars later, I had finally built a successful and profitable business. I was hosting workshops, both live and virtual, I was working with IDEAL dream clients, and through my website I was selling a line of products that I had created.
I successfully automated most of my marketing efforts, including my lead-generation system and follow-up system. I also automated sales of my online products.
My friends and clients took note of my creation and began asking me to help them automate and market their businesses in the same way. That's how CSM Talent was born
(Formally Known as Clear and Simple Marketing).
CSM Talent is a boutique marketing firm that loves to help small, service-based businesses – and their industrious, big-vision owners to thrive, prosper, and find whole-life abundance. We have two divisions — one for Travel Agents (that's YOU!) and one for Wellness Practitioners.
Here's what I believe in and why I'm in business…
I believe education is the pathway to abundance, purpose, and freedom which is why first and foremost we are an education company and our signature program is the Travel Expert Marketing Academy. In addition to education, we offer a handful of select done-for-you marketing services.
Here at Marketing For Travel Agents, we work with exclusively with travel agents because I believe you improve the world we live in by introducing people to new places, new ideas, and new traditions. The more we travel, the more we expand our understanding of our world. We grow as people. We connect meaningfully with others. We traverse boundaries and we erase racism. This is important work you're doing!
Trevor Noah sums it up perfectly.
Our other division, Marketing For Wellness Practitioners, works exclusively with wellness practitioners because I believe they are our key to longevity, vitality, and whole body health. And if we have enough successful wellness practitioners who are getting and keeping our population healthy, as well as raising consciousness – that is what ultimately will save our health care system, AND most importantly, it'll create a healthy, happy, emotionally stable population of people. It is also incredibly important work.
Today, our two divisions are humming along with a great team of creatives, project managers, and outstanding administrators. And my love, Farukh, is behind the scenes helping make all the magic happen. There's a lot of magic happening here at Marketing for Travel Agents!
Farukh is an SEO/Facebook Ads/Google Ads pro. He creates and manages ad campaigns for celebs and he's the go-to guy for some of the world's top internet marketers – I can't give you their names but I guarantee you know of at least a few of them.
We met at a marketing conference in Scottsdale Arizona, became smitten, and are now planning on spending the next 87 years together. Yes, 87. Yes, that means we're planning on living to be really REALLY old. And how we came up with 87 is another story for another day.
We LOVE to travel, so we fly around the country to marketing and personal development conferences, and around the world for play.
What lights me up more than anything is changing people's lives by empowering them financially. This is what I love to do, what I do well, and what I want to do for you.
I love, love, LOVE helping make small business owners successful.
When clients tell me that through our programs and services they were able to take their struggling little side business and turn it into a full-time rewarding business with a great income, my heart sings!
All day, every day, I am joyfully driven to help people succeed — to do what they're passionate about, to live in abundance, to help them grow into all they want to be and more.
If you want to be a part of what we're up to here, I invite you to enter your email below to get our weekly Travel Expert Insider.
You'll get a quick tip each week for getting more IDEAL clients, and for creating a business and a life that rings with abundance, purpose, and freedom.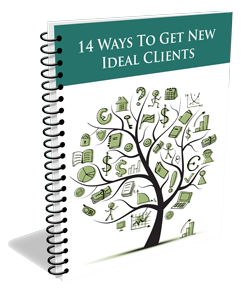 The 14 Best Client-Getting
Strategies For
Travel Experts
Whether you work with a host agency, a franchise, a consortia, on your own or for an agency – these strategies will work great for you. And this handy little guide is yours FREE!
We respect your privacy. Your information is 100% secure.



As Seen In: